Interior Renovations at Stephen Zamborsky
In addition to our exterior renovations, Stephen Zamborsky offers additional interior renovations for spaces such as kitchens, bathrooms, and more. You've come to the right place for complete services to transform your living spaces and create your dream home. Contact us to learn more about our renovations today!
Our kitchen renovations can be tailored to your individual needs. We specialize in countertops, cabinetry, hardware, drywall, appliances, and more. If you'd like a completely new look in the kitchen, you can count on our craftsmen to get the job done.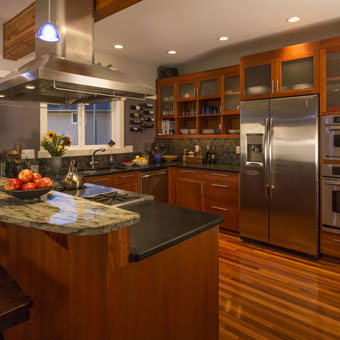 Bathroom renovations can provide you with added space and functionality. We specialize in bath fixtures, cabinetry, vanities, and more. Our team works with you to determine what would best compliment the rest of your home, as well as your lifestyle.
Complete renovation services are available for basements, too! We construct new walls, install flooring, refresh the windows and ceilings, and more. Bathroom additions are available as well. Add even more entertainment and living areas to your home with a finished basement!
For complete installation, maintenance, and repair services for your windows and doors, look no further. We provide a selection of windows and doors for you to choose from, or we can install any system you might have already purchased.
If you need a set of interior stairs installed or repaired, Stephen Zamborsky  has the renovation team you can depend on. With your requirements in mind, we construct stairs that properly and safely suit any area of your home.
Stephen Zamborsky Inc. offers comprehensive painting services for any interior room of the house. Brighten up your bedrooms, kitchen, living room, or other space with a fresh coat of paint! We carry plenty of colors to suit your individual style and personality.